Let me show you with a late autumn day example.
My commute begins at this lovely technical corner. By the way, it's located a few dozen meters from the Barrandov film studios. 🙂
Figuring out what line to take and jump over the root, or even how much the rear wheel lock will be needed to turn nicely into the corner and avoid the root: probably the best morning wake-up for any mountain biker. 🙂
After a few more roots and quick turns, there lies this innocent-looking corner. But in reality, it's quite steep and sharp. To be honest, on my first attempt, I ended up hugging one of those trees on the left 😐
The last straight, …😐
…and here is the finish of the initial "mountain" part of the journey 😐
Out of the "forest" and after crossing the highway: what a view of the Prokop Valley! The valley is also the perfect candidate for a commuting detour, when 500 meters of a technical trail aren't enough for you. 🙂
And this misty view of the river ahead looked quite promising this time. 🙂
Freezing welcome of the riverbank… 😐
…just under Barrandov Bridge, which was covered in fog at the moment. 😐
This would be the shortest possible way to the city, but I don't like those biker-hostile "flower pots" on Strakonická Street. 🙁
Luckily, there is the option to cross a bridge and continue on the other bank of Vltava. Interestingly, this photo was taken in Podolí, approx. 50 meters from the water. The fog had somehow disappeared. 🙂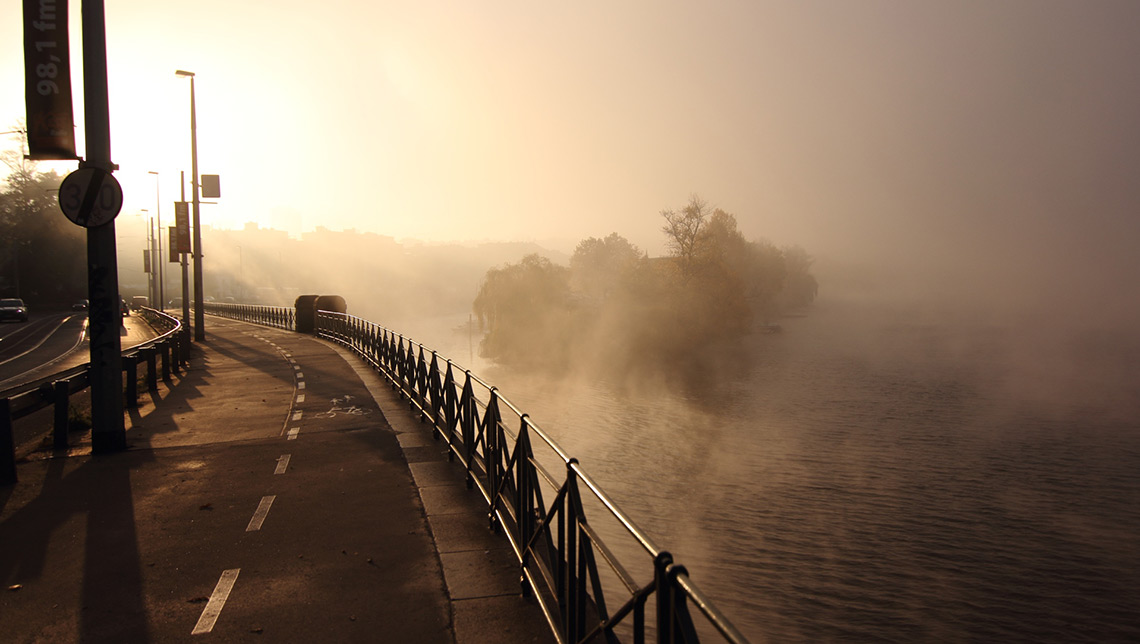 Not for long, though. Under Vyšehrad, the scenery got quite surreal. 🙂
Amazing. 🙂
Who would guess there is Prague in this photo? (0% special effects, really). 🙂
Proceeding further down the city, the sunlight was still magically fighting the fog. 😐
Not many people get to know Náplavka so blissfully free of crowds, I guess. 🙂
Almost under the "Dancing House", I usually quickly return to the other side of the river. However, this time I had to stop and capture the magic hovering over Mánes. 🙂
Luckily for me, there is a bike lane connecting Jirásek Bridge and Kampa. 🙂
And yet another spectacular view. 🙂 🙂
After nine kilometers, almost opposite the John Lennon wall, my final destination: Geneea's office. Quite an athletic finish follows, consisting in carrying my bike to the second floor on my shoulder. And the views here, including of Charles Bridge, are really rewarding. See you in our next photo blog! 😐
---
But, wait… So, what does Geneea think of my work commute? I believe Geneea likes it! Emoticons in parentheses following every paragraph indicate how positive or negative the text is. Apart from my negative comment on Strakonická Street concerning the "flower pots", it seems like I am an overall positive biker. 😉
Feel free to try our sentiment analysis on your own text as well. We provide direct access to our API and you can use e.g. Google Sheets to avoid typing any code!
By the way, have you noticed what people, places, companies or even numbers are mentioned in the text? Geneea has:
Locations: Prokop Valey,

Barrandov Bridge

, Vltava, Podolí, Vyšehrad, Prague, Náplavka,

Dancing House

, Jirásek Bridge, Kampa, Charles Bridge
Organizations: Barrandov Studio, Geneea
Persons: John Lennon
Products: Google Sheets, Microsoft Excell
Numbers: 0%, first, one, second, nine, dozen, 50, 500
We call it entity extraction and our API is ready to analyze your documents. In our next blog post, we're going to explain how you can get the job done easily, for example using Microsoft Excel, and focus on your own business. For instance analyzing where your own engineers are biking…